Grout Cleaning and Regrouting Service
We are NOT a franchise operators after short course of grouting. A previous tiling experience is an absolute must if one seeks a sub-contract opportunity with us.
Think of us as a mobile encyclopedia of Tiling. If you encounter a problem regarding your tiles or grout, we have all the knowledge and experience to resolve it. We operate in Auckland as a tiling company since 1995. I , Jake the owner and manager of the company, took my first steps in tiling in 1986 in Stuttgart, Germany. The European market is a strictly cowboy-free zone. In such a tight market there is no space for an underdog. I learnt from true professionals how to do things the right way.
---
Greetings
My name is Jake. I am a tiler, builder, project manager, in the trade since 1986. I have been tiling Auckland since 1989 and since 1995 I established my own company – Euro Tile Style (see my business review at: mytradesman.co.nz.
Long years of co-operation with companies specialized in refurbishment of bathrooms and kitchens (like Decortiles Ltd) gave me broad experience in building industry as a whole. All the skills came handy in tile restoration which is an exact mixture of tiling, commercial cleaning and painting with occasional touch of plumbing and building (leaky showers repair). In 2009 I decided to reduce my services to tile and grout restoration only. Hence the change of company name to The Extractor. The new name originates from my preferred cleaning technique that makes all the difference in sealer coat durability. Dirt extraction is the corner-stone of successful sealing. Unlike conventional cleaning methods, it leaves clean body not only a surface. Most importantly it leaves substrates free of chemicals. It is really THE factor that determines sealer coat "lifespan".
---
What people say about my workmanship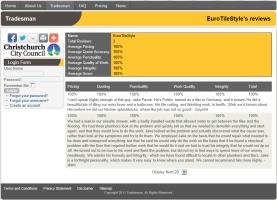 I can't speak highly enough of this guy, Jake Pacek. He's Polish, trained as a tiler in Germany, and it shows! He did a beautiful job of tiling our entry foyer and a bathroom. His tile cutting, and finishing work, is terrific. Wish we'd known about him before we did our kitchen splashbacks, where the job was not so good! – Gaye59
We had a leak in our en suite shower, with a badly installed waste that allowed water to get between the tiles and the flooring. We had three plumbers look at the problem and quickly tell us that we needed to demolish everything and start again, and that they would love to do the work. Jake looked at the problem and actually discovered what the cause was, rather than look at the symptoms and try to fix them. We employed Jake on the basis that he would repair what needed to be done and waterproof everything, but that he said he would only do the work on the basis that if he found a structural problem with the floor that required further work that